Smart50 Workplaces 2023: What can these Top Performers teach you about hiring and retention?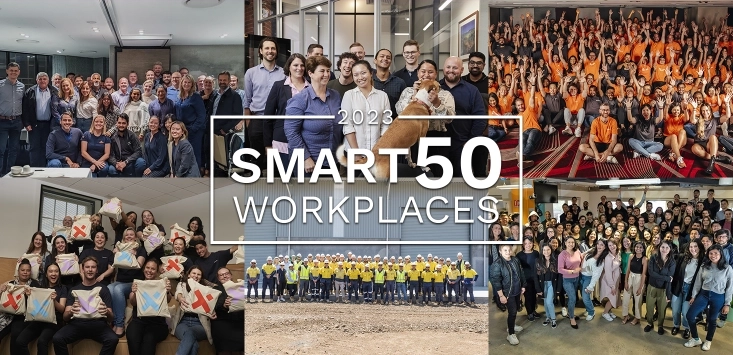 Developed in partnership with Employment Hero, Smart50 Workplaces sought out to find and recognise the hiring and retention strategies of 50 great Australian SME employers.
Today, we're pleased to reveal our inaugural Smart50 Workplaces list, brands of all stripes working hard to understand the employment landscape and put their people first.
Topping the list were our six category top performers. Their entries were shortlisted, checked over by our guest judges and confirmed with internal staff surveys.
Hybrid Work and Flexibility: Exa Product Development
Exa Product Development understands that "flexibility means different things to different people. The company sets 'reasonable business hours' for its staff, which are 7am-6pm, and trusts its people to work their 40-hour week within this period. It also actively discourages after-hours messaging, both internally and with clients.
Dominic Price, Atlassian work futurist and Smart50 Workplaces guest judge for this category, said he was pleased to see companies "experimenting with how they engage with and delight their biggest asset… humans.
"Whether it be a focus on building inclusive work environments where people can thrive, or exploring techniques to positively impact mental health, this is great to see," Price said.
Exa Product Development co-founder Sarah Bardwell joins Smart50 Workplaces judges and winners in the 'What it means to be a great employer' webinar this Wednesday. Want to hear more about the company's top-performing approach? Register now.
Training and Career Opportunities: NRG Services
NRG Services trains and thinks long-term about its staff right from the apprentice level. Currently it has 44 apprentices, and "all have development plans to help them progress in line with their skills matrix and their personal goals." It has also partnered with TAFE to develop a school-based training program, and partners with local community organisations to keep staff engaged and empowered.
Emma Green, CEO and founder at Your CEO Mentor, and Smart50 Workplaces guest judge on the category said "it's clear every finalist in this category has a genuine interest in supporting and developing their people by meeting them where they are, and stretching them to reach their highest potential."
NRG Services founder Daniel Briskey joins Wednesday's webinar. Want to hear more about his company's leading approach to careers and training? Register now.
Culture and Employee Experience: Wisr
Wisr implemented a hybrid infrastructure to support workers at home and in the office, formed a people and culture committee, provides a $500 annual wellness reimbursement, and provides weekly breakfasts and monthly catered dinners for its people – and that's just the tip of the iceberg.
Hareta McMullin, an EX consultant, judged the category and said "Wisr has a clear EX strategy in place and impressed with the thoughtfulness and sophistication of its initiatives.
"It does not simply talk the talk, it walks the walk."
McMullin joins our webinar panel on Wednesday. Don't miss her expertise on EX — register now.
Mental Health Support: HumanX HR
Maybe it's not surprising that an HR agency is well-versed in taking care of its people and their mental health. But leaders at other businesses can learn much from this Top Performer.
HumanX HR developed its nine-day working fortnight and invited staff to create their own guidelines, expectations and accountabilities — why it was such a success. Mental health concerns for HR workers are a real issue: "A lot of women work in HR consulting because of the flexibility the work hours offer. The mental load for these women working both full-time and part-time does not diminish, though — they're working flexible jobs to fit work around their other unpaid work", says HumanX HR's Smart50 Workplaces application. Burnout is another key issue.
The company uses policy documents, training, meetings and forums, as well as peer coaching and partnerships with mental health support groups.
Leanne Faulkner, a small business mental health advocate and guest Smart50 Workplaces judge on the Mental Health category, simply said "Can I work here please? Wow!" about HumanX HR's entry.
Salary and Benefits: hipages Group
At last year's Smart50 Awards for the fastest growing SMEs, hipages Group claimed the People Power category award. This year it's back, recognised as Top Performer in the salary and benefits category for Smart50 Workplaces.
hipages Group's impressive slew of benefits includes but isn't limited to a competitive salary, paid training and development, training budgets, mentorship programs, health and wellbeing programs, mental health days, employee assistance programs, work-from-home flexibility and support, extra parental leave, paid time off for volunteering and budgets for car and travel and equipment expenses.
"Our time to hire is consistently under 50 days and our top talent retention is almost 100%," hipages Group's Smart50 Workplaces submission proudly states.
Diversity and Inclusion: CJC Management
CJC Management is open and honest about the barriers to achieving true diversity in its industry: "Women are significantly under-represented in the engineering workforce, with civil and structural engineering having a particularly low female representation. Additionally, women with university qualifications have limited opportunities to attain senior positions in comparison to other STEM fields."
By auditing job ads and reaching out to dedicated communities and networks and referral programs, along with several other initiatives, it has the plan to double the number of women engineers in its team and provide opportunities for women graduates.
CJC Management has implemented practices to support diversity and inclusion, including an annual gender pay gap review and flexible work arrangements. The company has organised workshops run by women engineers to encourage more women into engineering careers and promote it as an attractive option for young women through traineeships. Proud to call itself an equal opportunity employer, it also celebrates International Women in Engineering Day and performs outreach to young workers to keep its mission on track.
Congratulations to the Smart50 Workplaces category Top Performers!
Want to see more great Australian SME employers? Check out the full list.
Download the 'What are great employers doing differently in 2023?' report to look at current trends in the employment landscape and best practices from Smart50 Workplaces Top Performers.
This article originally appeared on smartcompany.com.au
Want to learn more? Reach out to Exa Product Development — contact or connect with us!